Business Outline
Solutions and Amenities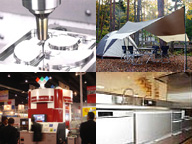 Operating professionally in specialized fields, Yamazen supplies products and added value that supports manufacturing and ensures a comfortable lifestyle.
As a specialized trading company, Yamazen operates in three core areas: production equipment, housing equipment/materials, and home products. In this capacity, Yamazen's industry-savvy products, expertise, and information contribute to solutions for our clients and to an enhancement in the quality of life.
The following introduces an overview of each of our business departments and related products and services.
Production equipment, used to bring about familiar products such as automobiles and electrical equipment, plays a vital role in manufacturing activities carried out at domestic/overseas factories and production sites.

Durable consumer goods, such as furniture and electrical appliances, which enhance the convenience and comfort of everyday activities, play an active role in our "personal lifestyles".