Mid-term Management Plan

Main points of 「CROSSING YAMAZEN 2021」

At YAMAZEN, we have launched our CROSSING YAMAZEN 2021 medium-term management plan which runs for three years beginning with the current FY2019 and through the plan's final year of FY2021. The term CROSSING contains the meaning of maximizing our functions as a specialist trading company that we have cultivated up to present and "crossing" these with various other activities to create new value and respond to change.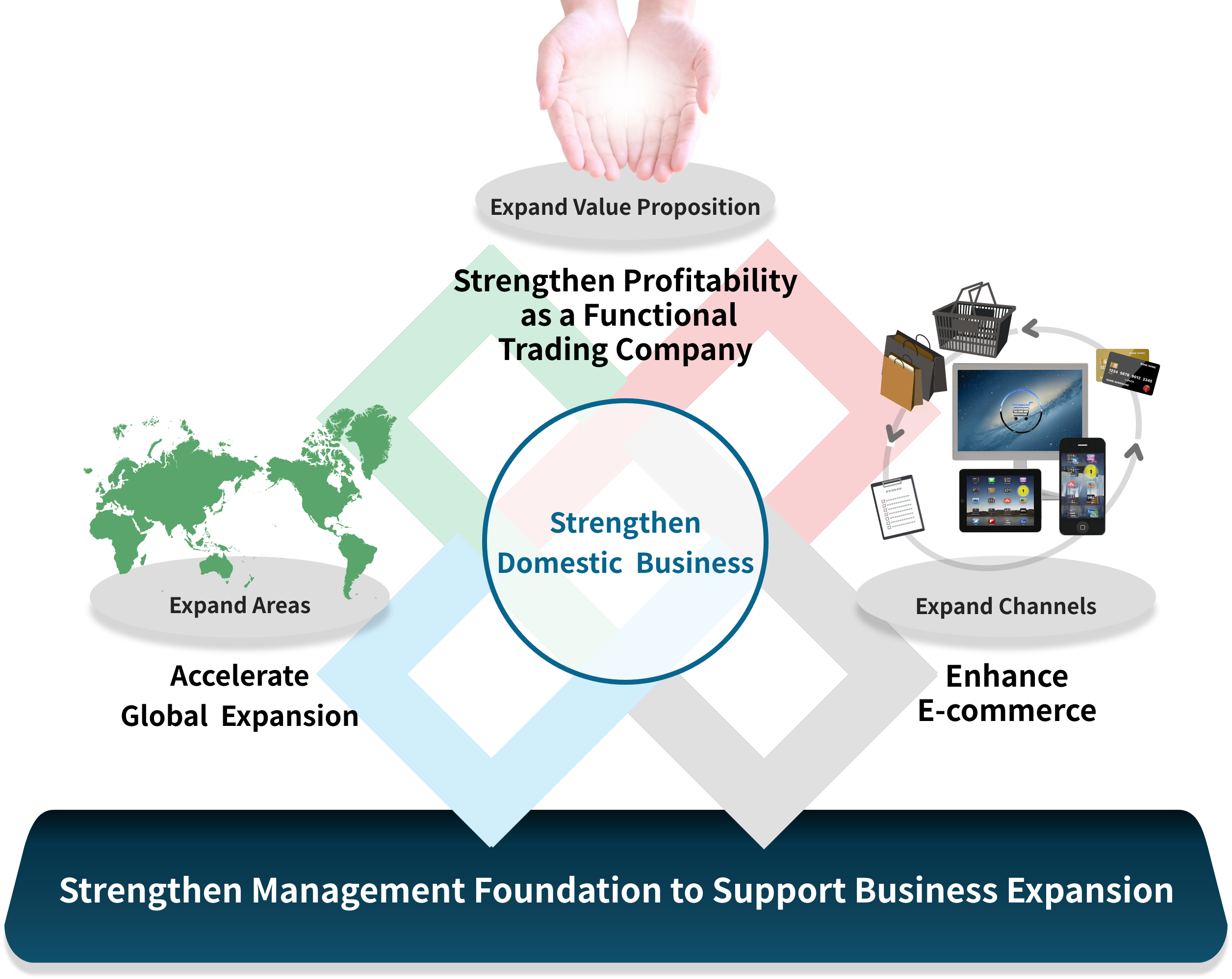 Five Major Policies of 「CROSSING YAMAZEN 2021」
The following explains the key points of the five major polices and the focused themes.
1

Strengthen Domestic Business
Strengthen response to labor-saving and automation needs
Enter into and strengthen markets holding future promise
Electric vehicles (EV)
Foods, pharmaceuticals, cosmetics (Three Products Market)
Agriculture
Aerospace, etc.
2

Accelerate Global Expansion
Strengthen growth markets (India, etc.)
Expansion of bases and technical centers
Capture automation demand
Build system under which our company is independently capable of responding to technological demand, cooperation with systems integrators
Streamline operations and logistics by establishing overseas logistics capabilities
Strengthen export management system to support security trade controls
3

Strengthen Profitability as Functional Trading Company
Strengthen response to labor-saving and automation needs
Strengthening of engineering functions, cooperation with systems integrators
Strength energy solutions business
Build new management core system
Utilize digital sales support tools
4

Enhance
e-commerce
Expand net shopping in Home Products Division
Acquire and hold onto royalties revenue through improving usability
Enhance product lineup and peripheral services as specialist store
Open new stores (malls)
Examine global e-commerce for overseas industrial tools and equipment
Strengthen logistics function
5

Strengthen Management Foundation to Support Business Expansion
Integrate system globally with introduction of enterprise resource planning, etc.
Quantitative Targets of 「CROSSING YAMAZEN 2021」
Profit Targets
(¥ millions)
Fiscal 2019
(Term 74)
(Plan)

Fiscal 2020
(Term 75)
(Plan)

Fiscal 2021
(Term 76)
(Plan)

Net sales
500,000
563,500
610,000
Operating income
14,000
17,500
22,000
Operating Income to Sales Ratio
2.8%
3.1%
3.6%
Investment Budget for Next Five Years(¥ millions)
| | | |
| --- | --- | --- |
| Business investment budget (including alliances) | 20,000 | Business succession, M&A, new business, etc. |
| Initial system investment budget | 10,000 | Cost of initial architecture of new systems |
| Facilities investment budget | 30,000 | Establishment of logistics capabilities, etc. |
| Total | 60,000 | |
Key Financial Targets
Fiscal 2019
(Term 74)
(Plan)

Fiscal 2020
(Term 75)
(Plan)

Fiscal 2021
(Term 76)
(Plan)

Return on total assets(%)
6.6
6.5
7.5
Turnover of total capital (times)
2.17
2.09
2.08
Cash flow margin(%)
3.2
3.0
3.5
*We are considering the quantitative targets with a view to reviewing.
---