Towards symbiosis with society
Concept of CSR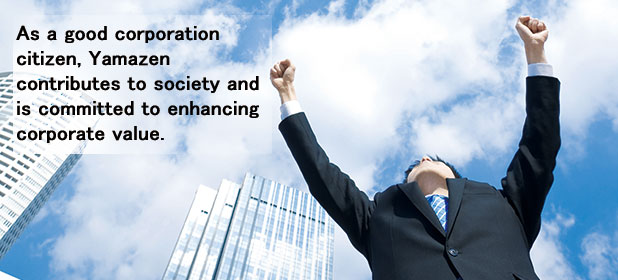 What is Yamazen's basic concept of CSR promotion?
The core principles of Yamazen's management philosophy are: "management of human resources (fostering people that we can be proud of in society)"; "adaptive management (nurturing a corporate culture that can constantly adjust and respond to the current era)"; and "reliable management (contributing to the prosperity of the industry and an affluent society)". 
CSR promotion aims to, through the manifestation of this management philosophy, fulfill Yamazen's role as "a good corporate citizen" and to enhance its "reliable corporate value" as an entity of service to society.
Yamazen Group Corporate Activity Charter
Yamazen maintains sound ethics as a good corporate citizen. We respect human rights and comply not only with laws and regulations and international rules but also their spirit of such. As a specialized trading company, we also act on a socially sensible basis, contributing worldwide and to regional communities through the "distribution of a wide range of products and services of benefit to society". Reflecting this, Yamazen has established 10 basic policy principles to establish a trustworthy corporate brand.

1. Provision of products and services from the customer's standpoint
2. Fair, transparent, and proper trading
3. Timely and appropriate disclosure of corporate information
4. Realization of an ideal working environment
5. Fulfillment of an environment-friendly business
6. Participation in social action programs
7. Confrontation with anti-social forces and organizations
8. Compliance with international rules and ensuring import-export controls
9. Compliance with statute and corporate ethics
10. Approach to problems and associated measures
CSR Promotion System
Yamazen maintains both sustainable profit growth (offence) and compliance (defense). To enhance corporate value, Yamazen has enacted a system that implements "internal control activities" and "management risk management" through action plans and other specific measures.
CSR Topics
Received the ISO14001 "10 Consecutive Years Award"

Yamazen was presented by the Japan Audit and Certification Organization for Environment and Quality (JACO) the "10 Consecutive Years Award". This award is given to organizations for the accomplishment of 10 consecutive years of auditing to express appreciation for certified organizations and to honor efforts at continuous improvement. (March 2010)

At left, JACO President Mr. Shimoi; right Yamazen CEO Mr. Yoshii

Mayor's commendation for superior garbage reduction building

In recognition of the its Osaka Corporate Headquarters' achievement of receiving the superior garbage reduction building commendation for five years in a row, Yamazen was presented a letter of appreciation and a plaque by Osaka Mayor Mr. Hiramatsu at a ceremony held at the Osaka Kokan building (October 2009).

Installation of solar power generation at the Tokyo Corporate Headquarters

Comprising multi-crystal silicon solar batteries and a new control system, the system is expected to generate 20 kw for an annual power generation of 20,000 kwh and will achieve a 6.8 t CO2 reduction.

Regarding system introduction, we are utilizing the Field Test Project on Photovoltaic Power Generation system, carried out by the independent administrative corporation, New Energy and Industrial Technology Comprehensive Development Organization (NEDO). (February 2009).

Mayor's commendation for roads and the parks beautification project

Upon recommendation from the neighborhood association for its park cleanup on the second Tuesday of each month, Yamazen headquarters was conferred a letter of appreciation by Osaka Mayor Mr. Hiramatsu at a ceremony held at the Osaka Central Public Hall (September 2008).

Contribution overseas of used female employee uniforms

Used uniforms were collected upon the redesign of female employee uniforms and contributed to overseas areas, such as Laos and Peru, through the offices of the Japan Relief Clothing Center (NPO) (February 2008).