Eco-Business
Distribution of Ecologically Friendly Products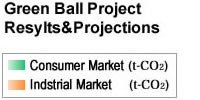 plan
'Contribute to the environment through business'. We, Yamazen set 'dissemination of ecologically friendly products' in our environmental policy as a specialized trading company for production equipments & consumer goods. We refer products more beneficial to environment than the standard such as solar power generating system as ecologically friendly products. We are trying to establish manufacturing environment which is ecologically friendly and easy for the workers under the collaboration of manufacturers, professionals in manufacturing and the dealers, as well as comfortable and healthy living environment.
Production Equipment Division
The production equipment department develops environmental products, displays products in environmental exhibitions, and holds environmental seminars. It is actively engaged in providing solutions to companies engaged in environmental ISO and local neighborhood affiliations and in developing those markets.
Housing Equipment and Materials Division
Contributing to the environment by creating highly functional and comfortable homes
Creating 21st century eco-homes for a healthy environment
To comply with the "Next-generation Energy-saving Standard" and the "Quality Assurance Act", we are hard at work on construction materials and methods needed for energy-saving housing design and highly airtight and adiathermanous homes as part of our eco-home creation solutions.
Creating healthy living spaces for healthy people
Our solutions also cover creating healthy living spaces, such as interiors, that use natural materials that accord with "living naturally with nature", while also creating barrier-free housing.
Home Products Division
Environmental load reduction of packaging material
We are reducing Styrofoam used as packaging and cushioning material for our original products. We are also taking other environment-focused actions, such as using recycled cardboard and employing recycled paper in product manuals.
Ecologically friendly products
| | |
| --- | --- |
| Products that are designed and manufactured to reduce environmental load in the pertinent product's life stages, including manufacturing (materials used), transport, use, disposal, etc. | Products, including equipment and devices, etc., that through their use, contribute to environmental preservation. |
| ◆Energy-saving equipment | ◆Waste separation, storage, and conveyance systems |
| ◆Green energy systems | ◆Volume reduction machines (press compactors, thermal compactors, crushing machines) |
| ◆Eco-machine tools | ◆Food scraps processors |
| ◆Dry processing tools and equipment | ◆Waste oil, fluids, solvent cleaners recycling |
| ◆Anti-dioxin incinerators | ◆Sludge processing and discharged water purification equipment |
| ◆Resource-saving products | ◆Soil contamination improvement products |
| ◆Use of recycled materials and eco-materials | ◆Cleaning and health & safety products |
| ◆Sterile, antibacterial, and HACCP-compliant equipment | ◆Dust collecting equipment and mist collectors |
| ◆Materials for homes with high air-tightness and adiathermancy | ◆Deodorizing, air cleaning, clean rooms |
| ◆Housing equipment and materials with high air-tightness and adiathermancy | ◆CFC recovery equipment |
| ◆Anti-sickhouse measures | ◆Sound absorption, soundproofing, anti-vibration equipment |
| ◆Eco-building materials | ◆Environmental monitoring, measuring equipment, management tools |
| ◆Lifestyle and work environment improvements | |