Production equipment - related business
We contribute to the increased competitiveness of our clients by providing solutions adapted to all needs related to supply and production in the manufacturing industry.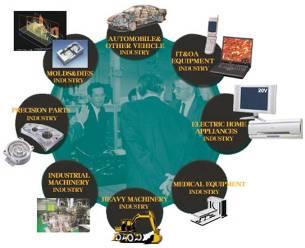 Cutting, grinding, assembling, and transporting—these are examples of the wide variety of needs in constant demand within manufacturing. Production innovations are constantly evolving, from high-added value, high functionality, development, and design to the shortening of product development cycles.
Yamazen handles all production needs in the field of production equipment, providing total solutions that combine software with: a rich solutions and informational capability, vanguard technology, and various products and systems acquired through collaboration with top manufacturers in all fields.
In realizing production innovation, our high-added value sales activities are always in support of "manufacturing".
Our high-added value sales activities are always in support of "Japanese manufacturing".

Import and export of machine tools, technological cooperation, overseas supply, support of the transfer of production facilities to locations overseas, tripartite trade.